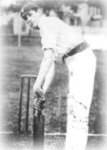 Cecil Parkin was the second 'big name' ever to come to Church as professional.The great S F Barnes was the first in 1904. Parkin, born in Durham on on February 18, 1886, came via League Cricket in Yorkshire and Staffordshire, having taken 120, 105 and 110 wickets in successive seasons for Tunstall. Above all, Parkin is remembered for his share in the derby games involving Church and Accrington whose professional was C B Llewellyn, the South African. The history of the 'whitewash marks' on the Church-Accrington boundary bears testimony to the acuteness of the rivalry between the two clubs, and for that matter, between the two professionals, in those years immediately preceding the First World War.
Parkin's heyday at Church was the period of six seasons from 1910 to 1915 inclusive, after which the League was suspended due to the War until 1919. He returned to the leagues after his first class career was over and spent one more year at East Lancashire in 1930. He was the first professional in the Lancashire League to take 100 wickets which he did in 1910, and in that season and the following three, he took the highest number of wickets in each season by any man playing in the League. During the 1914 season, he was injured for a number of games, otherwise he would almost certainly have taken 100 wickets in all of his six seasons.
The scene was set for the most memorable period of rivalry between the two clubs in their respective histories, and it has to be said that Accrington came out on top with championships in 1914, 1915, and in 1916 when the League operated without professionals. Nevertheless, Church jumped from joint bottom in 1910 to fourth and fifth in 1914 and 1915. Parkin was described by the great Jack Hobbs as the best bowler in England at the time. Neville Carduse described him as one of the greatest off-break bowlers he had seen. He was, in fact, an all purpose bowler capable of four styles at any one time - opening with the new ball, bowling off breaks, leg breaks and googlies in the same match.
Whilst at Church, he ran a business as a tobacconist and athletics outfitter at 32 Blackburn Road at what, in 1911, was the tram terminus. He was paid a rate of around £6 per week throughout the summer months plus a retainer of £45 for the winter between his seasons of service - a princely sum compared to the wages of the day.
His career in all first class games between 1906 and 1926 only encompassed 123 matches in which he took 1,048 wickets. He was 39 years of age when he took his 1000th, the twelfth fastest in terms of games in first class history. He is one of only three Lancashire bowlers to have taken more than 200 wickets in a season, and he played in 10 Test Matches for his country. He was an extrovert, described by journalists as 'an original, a comedian on and off the field who was loved by the crowds who, in the early 1920s, flocked to see him'. He was the target for Yorkshire's unremitting discrimination in that having played once for that county, he was discovered to have been born 25 yards over the boundary of County Durham, and so he played no more for Yorkshire!
Despite the fact that after the War he played again only 15 times for Lancashire in the first three seasons, he was so impressive as to be seleted to tour Australia in 1920/21, and playing in four of the five Tests against Australia in England in 1921. In his first season as a full time county cricketer with Lancashire in 1922, aged 36, he was first to 100 wickets and finished with 181. He followed this by taking 209 wickets in all matches in 1923, 186 of them for Lancashire. He took 200 in 1924, 194 for Lanacshire, and played for England in what was to prove to be his last Test. In that season, he decimated Glamorgan, who were bowled out for their record low score of 22, producing the figures of 8 overs, 5 maidens, 6 wickets for 6 runs.
In his final Test, Maurice Tate and Arthur Gilligan bowled unchanged throughout the South African first innings which yielded only 30 runs. In the second, Parkin was only bowled fifth change and did not take a wicket. As a consequence of this, he wrote a column in the Sunday Empire News criticising Arthur Gilligan's captaincy, a matter which probably ended Parkin's Test career.
In 1929, he had a pub in Blackpool and whilst playing as an amateur for Blackpool C.C., he took 10 wickets for 32 runs against Ribblesdale Wanderers. In 1931 and 1932, he was Tonge's professional and established a Bolton League record in Tonge's championship season of 1932 of 110 wickets which stood until broken by Mankad in 1962. His last appearance for Church was in 1934 when he stood in for Harry Tyldesley against Colne.
Having returned to the leagues, he put on weight until he reached about 18 stones, and for a period, returned to Old Trafford as bowling coach. He died in hospital in Manchester of throat cancer in 1943, aged 57, and his ashes were scattered at Old Trafford.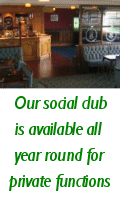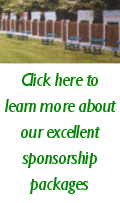 Church & Oswaldtwistle
Cricket Club
West End Ground
Blackburn Road
Oswaldtwistle
Accrington
Lancashire
BB5 4LP
Tel: (01254) 385094


&copy Church & Oswaldtwistle Cricket Club 2019